Thank you for your support!
Product images can be reviewed in this thread:

https://www.simforums.com/forums/ground-environment-prepar3d-image-collection_topic58493.html" rel="nofollow - https://www.simforums.com/forums/ground-environment-prepar3d-image-collection_topic58493.html
GEP3D has been updated to v1.2 as of October 3rd 2018.
THE FULL VERSION OF GEP3D v1.2 HAS BEEN RELEASED AS WELL AS THE 1.2 PATCH
PLEASE SEE THIS ANNOUNCMENT FOR MORE INFORMATION
https://www.simforums.com/Forums/gep3d-v1-20-released-europe-usa-world-upgrades_topic60596.html" rel="nofollow -
LINKS BELOW ARE TO THE 1.2 FULL VERSION ONLY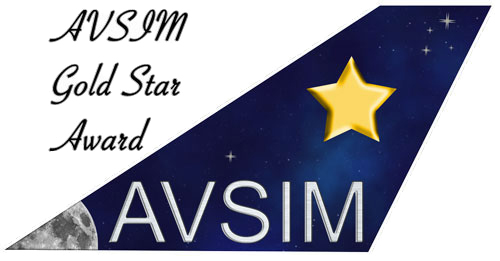 Ground Environment Prepar3D World Edition
Flight1 Aviation Technologies and the developers of Ground Environment are proud to announce a full-world texture scenery product for Lockheed Martin Prepar3D which comes with Ultimate Terrain Prepar3D support for all current and future supported Ultimate Terrain Prepar3D region products.
PLEASE NOTE
This product will work in all versions of Prepar3D. If you are not looking for support for professional pilot training, military, FAA, academy training, or, affiliated with a corporation and require that support, the Professional and Enterprise license editions are not required.
This product is for Lockheed Martin Prepar3D only and no other version of the simulator
Performance and Sight Seeing in One Package:
You can now experience a Flight1 award winning scenery product that changes the entire Prepar3D simulation ground texture and autogen world from pole to pole in one install. Ground Environment Prepar3D (or GEP3D for short) greatly improves the Prepar3D simulation world with detailed texture sets which include a complete set of matching night lighting maps. Autogen has been meticulously placed and done so with reasonable virtual address space (VAS) consumption and overhead in mind. A secure backup is established by the product for easy and quick restore at any time.

From Kabul to Kathmandu, from Cape Town to Anchorage Ground Environment strives to make the world look like the world and not sacrifice one part of it for another.
The product is available in three primary versions and follows the Lockheed Martin EULA for each.
* Academic
* Professional/Enterprise
This forum will be the location for all support and inquires about the academic version. The professional and enterprise editions will be supported through in a closed forum with extended support based on the license and use. Please contact Flight1 Aviation Technologies http://www.flight1tech.com" rel="nofollow - if you wish to incorporate this product into a professional or enterprise use simulation system.
Use of this product requires that the end user fall in line with the requirements in place by Lockheed Martin for Prepar3D.
An Academic License is provided at a discount for students. Professional license is available for real world pilots and aviation professionals. Professional and Enterprise license options are also available for corporate, military and government depending on defined use.
If you qualify for use of Prepar3D under the Lockheed Martin academic license model, then you qualify for a GEP3D academic license.
All questions, inquires or support for the academic version of GEP3D including download and license issues are to be directed to this forum only. Please do not contact Flight1 Technologies for academic license support.
GEP3D incorporates a "smart" and convenient single interface system which automatically monitors user inputs and does not allow errors. The new GEP3D interface is very simple to use and provides 5 services to the user.
 Backup and Restore
 Inform users of available upgrades
 Selection, Enable and Disable of options
 Support documentation and direct support links
 Detects and supports all Ultimate Terrain X product regions
GEP3D is designed to run though a graphic interface which has been preprogrammed to monitor user input and correct for any installation order errors instantly.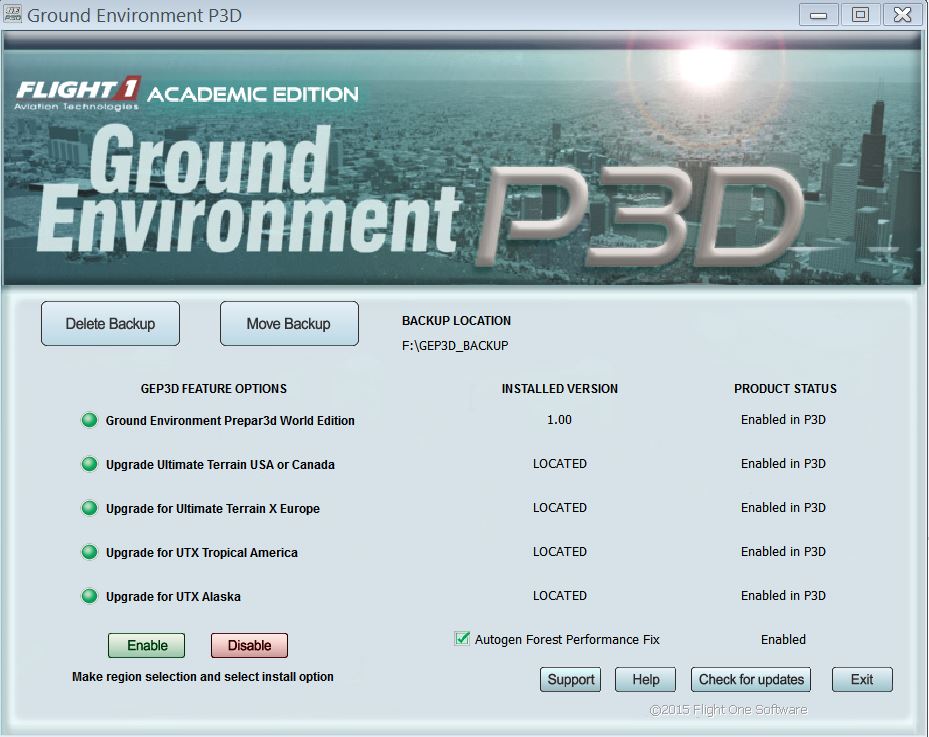 All Ultimate Terrain products have been pre-tested and verified for the GEP3D product. As the Ultimate Terrain developers release regions for Prepar3D the GEP3D interface will automatically detect them and update the region for seamless blending with GEP3D
Activation/Installation, setup and use of the product is very simple and automated for the most part. There is no setup or change needed once the files are activated in Prepar3D and the interface can be closed until a change or update is applied.
Detailed Product Features:
• Full day and night texture support for all Ultimate Terrain Prepar3D landclass products
• Enhanced textures to assist in rendering clear visuals as low as 250-500ft
• High volume autogen layout with optimizations for maximum performance
• Worldwide coverage from pole to pole with one texture product install
• Low virtual address space consumption with maximum visual results
• 1m/pixel - 1024x1024 Textures - No excessive resolution to render
• Automated file backup system with smart backup storage
• Automated one click/browse move of backup directory
• Includes all seasons and night lighting environment
• Exceptional cloud shadow and lighting response
• No cost updates for the life of the product
• One click automated update system
• Real time status interface readout
• Quick Enable/Disable on the fly

NOTE:
GEP3D will work with all FTX 'regional' products and individual airport products.
This product is not compatible with FTX Global. FTX Global must be properly uninstalled and all the default sim control files restored before enabling GEP3D in Prepar3D. FTX Global can not be installed after GEP3D. The two products are not compatible in any way.
Professional and Enterprise customer inquiries for license cost and how to obtain those versions should contact Flight1 Aviation Technologies for more information and details: http://www.flight1tech.com" rel="nofollow - Cost of the Professional and Enterprise edition is defined by the use therein.
Updates and Improvements:
Regular update cycles are scheduled for the product. Updates for GEP3D will be free of charge for the life of the product. .
DOWNLOAD LATEST EDITION: v1.2

http://flight1.100megabyte.com/F1GEXP3D.exe" rel="nofollow -
MD5: 883ad8d7961c59b8a7f8816dedce10e8 CRC-32: b902b55a

http://flight1.100megabyte.com/F1GEXP3D.000" rel="nofollow -

- - http://flight1.100megabyte.com/F1GEXP3D.000

MD5: e49b54d57d25fdff31a2cf84530cd1dc CRC-32: d4f19259

For those who use http://www.simforums.com/forums/error-2029-when-installing-gex_topic44633.html" rel="nofollow - to verify files are not corrupt you can download the 2 hash check files here: http://gex.flight1.net/forumimages/GEP3D_MD5_CHECK.zip" rel="nofollow -

This is a very large download.

You may wish to consider the use of a download manager. If download speeds are slow it is probably because the links are experiencing heavy traffic however if you have issues getting the files such as broken links please post in the forums and let us know.

1. Please make sure your AV/Malware scanners are disabled so they will not interfere with download or install of the product.

2. Click each link and once downloaded place the 2 files in a single folder on the desktop

3. With both files in a single folder on the desktop, right click the file: F1GEXP3D.exe and select "Run As Administrator". Follow the directions to purchase the product. If you are reinstalling simply use the "Click Here to Reinstall" button and use your key/password to decompress.

Windows Security Advisory:

Please make sure Windows User Access Control is disabled. This is very important! Windows UAC can interfere with the installation and use of this product.

4. A license will be generated specific to your hardware. This license is required in order to run the actual installer as well as the product interface. Do not remove the C:\Flight One Software directory however you can move the decompressed installer from that folder after installation is complete. Once finished close the wrapper/installer.

NOTE: If you elect to not automatically run the installer after the wrapper finishes decompressing the product, make sure when you do run the installer to right click GEPrepar3D.exe and select "Run As Administrator"

5. It can be possible very aggressive AV/Malware scanners may read the GEP3D interface exe a false positive when the GEP3D interface is opened. To completely avoid this possibility enter the settings for the scanners and select to EXCLUDE the directory shown below:

C:\Users\<YOUR USER NAME>\AppData\Roaming\Flight1 Aviation Technologies\GEP3D <---- this directory and all files in it

PRODUCT INSTALLATION INFORMATION:

GEP3D does not install any files into Prepar3D until the user runs the interface and instructs the interface to enable the files in Prepar3D.

You can install the GEP3D World database on your system to any location you wish. The product does not require installation to the Prepar3D install directory where it takes up space for no reason.

Should you wish to change the default install path during the installation process you may do so. There is no install path requirement. You can elect to use the default path, or, browse the installer to the location of your choice.

You will need 7GB of free space to install the GEP3D database. You will need an additional 7GB of free space for the backup. Please make sure you have enough disk space. The database and the backup can be on separate hard drives. The backup by default will be created on C:\GEP3D_BACKUP and can be moved by using the interface controls on first run of the interface or at any time after installation. You will be prompted and asked if you wish to move the backup directory on first run of the product.

The primary database and the backup can be located anywhere on the system as long as the disk space is available. If the backup and the database are installed to the same hard drive the combined single disk free space required is a maximum of 14 gigabytes.

START THE INTERFACE:

Run the interface and follow the prompts. In some cases you may need to browse the interface to Prepar3D.exe the first time it is run. In other cases the interface may locate Prepar3D automatically.

If you are using 2 versions of Prepar3D on the same system, please see this outline to enable GEP3D in both: http://www.simforums.com/forums/use-gep3d-with-more-than-one-prepar3d-installation_topic53639.html" rel="nofollow -

Select the backup location and allow the entire process to complete. Enable GEP3D World in Prepar3D by clicking the bullet next to the line item and then click the ENABLE button.and Repeat that process to enable any UTX region products that are 'LOCATED' by the interface after GEP3D is enabled.

The GEP3D Manual (HELP BUTTON) will define most issues and solutions to them should any issues arise or you are welcome to use this forum to request support for the academic edition at any time.

I have provided basic install information above. You can review a copy of the manual for the product that has more detailed information here: http://gex.flight1.net/forumimages/GEP3D/GEP3D_Manual.pdf" rel="nofollow -

There are no scenery library entries for this product. GEP3D replaces the default textures only and therefore there are no scenery library entries needed.

Ground Environment and Ultimate Terrain Landclass/Scenery Products:
Ground Environment is a development partner with Scenery Solutions and their Ultimate Terrain series. All Ultimate Terrain products have been pre-tested and verified for use with GEP3D. As the Ultimate Terrain developers release and update their products for Prepar3D the Ground Environment team will be there to maintain continuity between the product lines for seamless blending between the two products.

The combination of the latest Ground Environment and Ultimate Terrain products produces one of the highest volume autogen renders with the least virtual address space consumption, something that is critical for the serious simulation user with current render engine limitations. A setup and use guide for UTX and GEP3D is available here: http://www.simforums.com/Forums/setup-utx-all-versions-update-new-lights-settings_topic46147.html" rel="nofollow -


Ground Environment and 3rd Party Landclass and Vegetation Products:
GEP3D supports all the major and minor freeware and payware landclass products on the market that do not alter landclass texture calls and follow the SDK for Prepar3D. Our suggestions for such products and the regions they cover are listed here: http://www.simforums.com/Forums/landclass-products-suggested-use-with-gex-gep3d_topic50977.html" rel="nofollow -



-------------