HOW TO CHECK FILES FOR CORRUPTION
THE DREADED INSTALL ERROR 2029
I am writting this post to define HOW TO CHECK FILES FOR CORRUPTION on your end before reporting the issue to us.
This way we don't run around in circles and you get serviced faster.
NOTE: When you see this error DO NOT CLICK TO CONTINUE OR IGNORE. YOUR FSX/GEX INSTALL WILL BE CORRUPT
OPTIONAL: You can use this process to confirm your downloads are perfect before running the wrapper
This subject has come up several times. Although rare, when you are installing GEX and the installer halts with a 2029 corruption error it can be difficult for everyone to know exactly what the problem is,
and that includes us!
We are asking users to diagnose this first
and save us all a lot of time...
If you have gone through this post and VERIFIED as outlined below but are still having issues: PLEASE POST IN THE FORUM and we will try to assist as quickly as possible.
PLEASE MAKE SURE YOU HAVE GONE THROUGH THIS POST FIRST..
There is only ONE method to verify files are not corrupt after a download.. that is called a CRC or MD check. In order to verify using CRC or MD you must have a small program installed on your end that reads the files and verifies the CRC/MD values. You must also have a file we provide with the CORRECT CRC/MD check values.
Here is how to check it out on your end.... this is how the PROs verify files IT IS VERY EASY!
Its a SMALL application that will ADD a tab to the PROPERTIES of files. It is perfectly SAFE.... Install HASH CHECK.
There is no reboot required, once installed proceed to step 2 below...
2. DOWNLOAD the CRD_MD_GEX<region>.zip check file for the GEX Region product files you question. Unzip the file. You will find 2 files in each package for each product. Place BOTH of those files in the same directory with the downloaded GEX Region product files
EXAMPLE: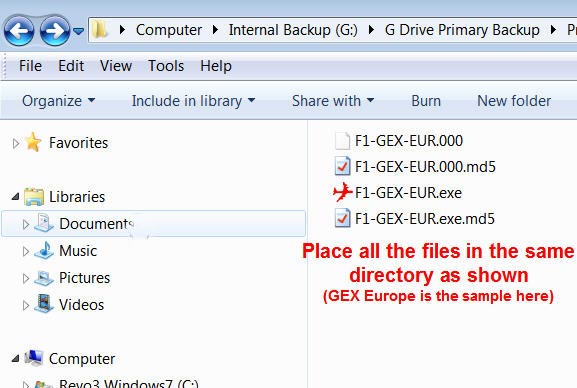 Ground Environment Prepar3D v1.20
GEX NORTH AMERICA (GEX NA) v1.096
http://gex.flight1.net/forumimages/CRC_MD_GEXNA.zip
GEX NORTH AMERICA (GEX NA) v2.20
GEX EUROPE (GEX EU) v2.60
GEX AFRICA AND THE MIDDLE EAST (GEX AFME) v1.50
GEX ATLANTIC AND PACIFIC TROPICS (GEX APT) v1.40
GEX ASIA AND SOUTH AMERICA (GEX ASA) v1.30
GEX AUSTRALIA AND ANTARCTICA (GEX AA) v1.20
3. DOUBLE CLICK the FIRST MD5 file.. a box will appear and a scan will take place. When finished you will see a readout like this: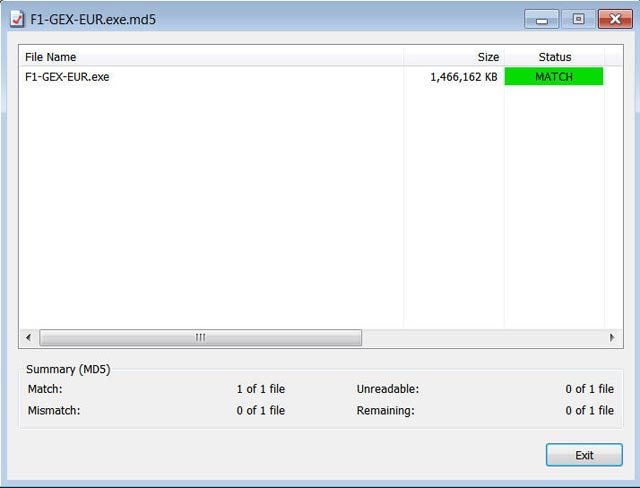 DOUBLE CLICK the SECOND MD5 file... a box will appear and a scan will take place. When finished you will see a readout like this: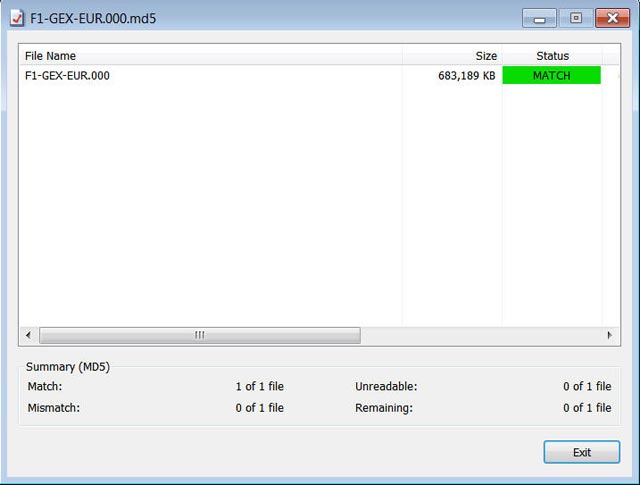 IF YOU SEE A GREEN MATCH FOR EACH FILE: THE FILES ARE GOOD AND NOT CORRUPT - The 2029 issue is on your side, most likely a OVERCLOCK problem OR a defective stick of MEMORY in your system.
There is NO PROBLEM with the files!
POSSIBLE REASONS/SOLUTIONS:
A. User is attempting to LAUNCH and INSTALL files from a network drive instead of a direct system drive. - Make sure you are unwrapping and installing GEX from a LOCAL hard drive.
B. System security is set too high or too aggressive and in the process of unwrapping the security software is corrupting the files. Disable all Windows and 3rd party security.
C. Users system has a defective stick of memory (or poorly overclocked) and with the very large file decompressions that bad memory address (or overclock problem) shows up. NOTE: A system can run FINE without crashes and this issue can still be present and the user is unaware of the problem.
TO TEST YOUR MEMORY: Be aware that i7 Processors ERROR CORRECT with more than 1 stick of memory in the computer. You CAN run a memory test with all the stick in the system HOWEVER BE AWARE that may produce a FALSE PASS result and you will not know which stick is bad unless you test 1 stick at a time.
1. Download MEMTEST (see links in next step) The built-in Windows memory tester IS NOT as complex and as accurate as MEMTEST.
NOTE THAT: Some motherboards require BIOS boot changes to boot with a USB stick, older motherboards my not boot with USB. The CD method is the best if you have never worked with a USB boot stick.
3. Boot the computer with MEMTEST disk and allow the test to run through at least 3 full test passes (9 tests per pass). MEMTEST starts testing automatically when its booted.
If you see any RED readouts appear (lower box of MEMTEST), then you have a defective stick of memory, or, a overclock situation (if you are overclocked) could be forcing a error.
If a test fails, then what you are seeing with the GEX decompressing is most likely associated with that failure.
To STOP memtest, simply reboot the computer with the disk removed. (Power/recycle)
IF you pass this test and you are overclocked... the system MAY BE UNSTABLE and you simply do not know it.
========================================================
IF YOU SEE THIS WITH ANY FILE CHECKED, (ONE, OR BOTH): (and you are sure you downloaded the right GEX check files for the region - please verify)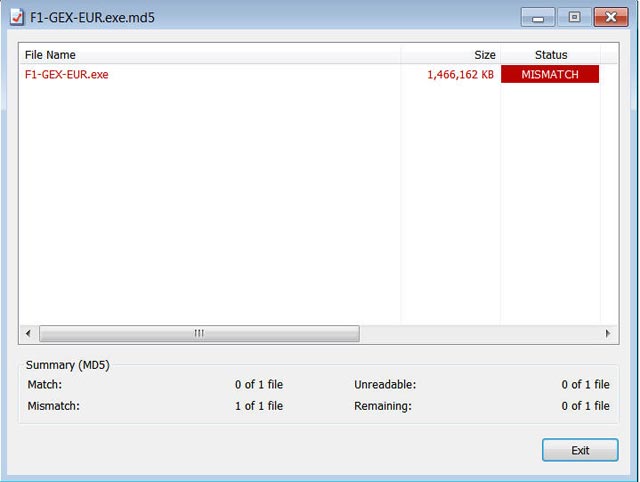 THEN - the dowloaded file be checked is corrupt. It is possible ONE file will MATCH and the other may MISMATCH - If this happens you need only redownload the MISMATCH file
IF you continue to get a bad download, then please review the following list of possible issues
This is the order of most common, to least common:
(if I can think of anything else I will add it to this list)
A. Users system is corrupting the file due to a router issue, a connection that is breaking, or, security scanners running. -
Shut down security and use a real download manager instead of the browser(s)
such as Free Download Manager Lite:
http://www.freedownloadmanager.org/download.htm
You can also try the Flight1 Download Tool Method:
Flight1 Downloader Tool
The link to the Flight1 Downloader Tool is
http://www.flight1.com/F1Download.zip
.
To use the Flight1 Download Tool follow these simple instructions
NOTE: If you already have the latest Flight1 Download Tool you can skip step 1
1. Download the tool zip file posted above and unzip it on your hard drive.
Run the F1DownloadSetup.exe that is in the zip file and install and run the tool.
2. Copy the first GEX Region product download link into the top box of the tool. Click the button: Download from URL
3. Download and Save the first file to a known location on your computer. Once the first file is finished, repeat step 2 for the 2nd GEX Region product link.
NOTE: The EXE and 000 (both files) must be downloaded to the same folder on your computer!
Once the downloads are complete, run the EXE file OR you can run the CRC MD check outlined above to verify the files before unwrapping and installing.
B. User had a corrupt download, then redownloaded the file (or files) but did not clear the old file off the system first. - Always delete and flush the original corrupt downloaded file before redownloading it!
C. Users browser was closed during the download. Browser cache was set to FLUSH automatically on browser close and the download corrupted in that process. - If your browser is set to automatically clear on close, leave the browser OPEN during a browser download. This issue does not effect those who use external download managers such as FDM Lite.
AND FINALLY-
D. File on the server is corrupt - RARE, very rare but can happen. Please note that a CDN file can be fine in one part of the world but a carrier issue somewhere on the other side can cause a corrupt download. We now have a DIRECT TEST for this that you can run from your location and the result will be sent to the CDN Provider for diagnosis and correction. The test will be run on a case by case basis and will help the CDN locate the problem based on where you are connecting to the system for the download.
Please post your 2029 issue AFTER checking all of the above FIRST.
SO, as you can see this problem can be difficult for YOU or US to define! Its best you do the leg work on your side first, because we are going to ask you to do ALL OF THE ABOVE before going further anyway.
Thank You!